7 Best Tennis Strings of 2020
Equipment plays an important role in the performance of sportspersons. In Tennis, good quality Racket is the basic necessity as it has an impact on improving player performance. However, tennis strings are also equally important as they also aid the playability of players.
Good quality tennis strings help players in returning shot appropriately and help players in control the ball movement. It also helps generate spin and adds power to the shots played by the player.
Usually, we ignore the strings while buying a racket, but in reality, it is one of the most important things in Tennis. There are various types of Strings available in the market.
Each string has its own features, pros and cons. One needs to have the proper knowledge and guidance while buying the string for his / her tennis racquet.
Racquets4U has done an analysis of the best tennis strings available in the Indian market for tennis players.
Details of the best 7 Tennis String of 2020 is given below -
Let's jump into the more detail review of each tennis string -
1. Solinco Tour Bite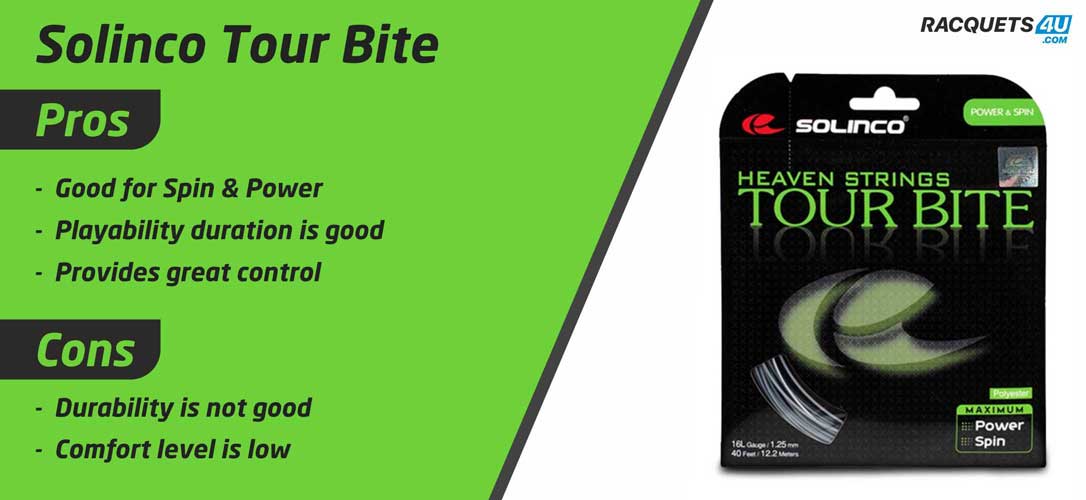 Type of String
Solinco Tour Bite string is by far the most popular string in India and ranks 1st in the list of analysis by Racquets4U. This string is made up of polyester monofilament, specially designed for high performances. The innovative and composite formula is used in manufacturing Solinco Tour Bite.
Gauge
Tour Bite is available in three gauges- 16, 16L and 17. Each gauge has different diameters. 16-gauge diameter is 1.30mm and 16L gauge diameter is 1.28mm and so on.
If you are looking for better Durability then 16G is preferred, but if you want better performance then 18G is preferred which is also used by international players.
Playability
Solinco Tour bite strings are softer. Softer strings provide more power. Therefore, the tour bite is good for power hitting. Moreover, the tour bite provides excellent control and remarkable spin.
This is not only a perfect solinco tennis string for players seeking more control and spin, but it also packs a punch for those who favor a heavy ball.
Pros and Cons
Pros
Good for spin and power

Playability duration is good

Provides great control
Cons
Feel is not great

Comfort level is low
2) Bablolat RPM Blast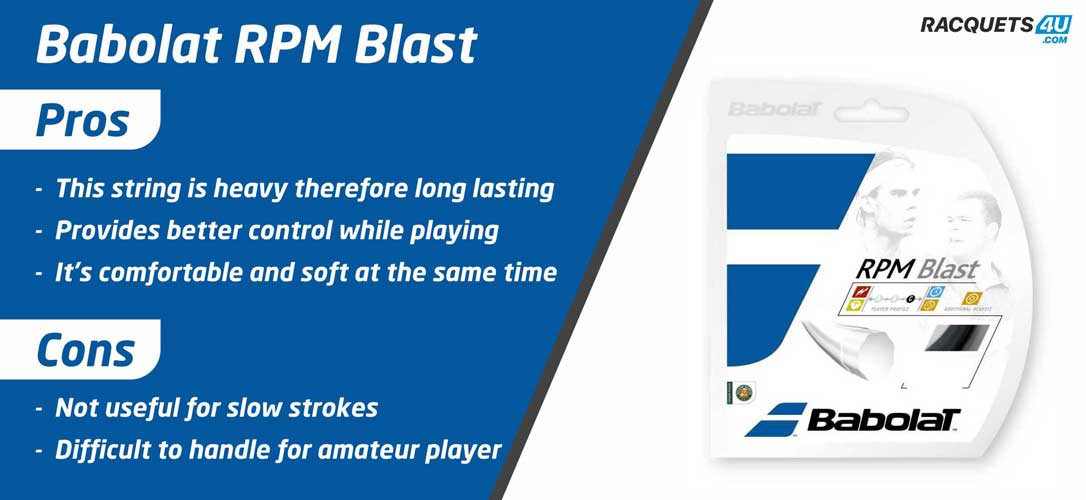 Type of String
The second string on the list is Bablolat RPM Blast. It is a firm and durable co-polyester monofilament string made up of the latest and advanced technology. It is very spin-friendly.
Gauge
Bablolat RPM blast is available in 16, 17, and 18 gauge.
Playability
Bablolat RPM blast string is perfect for players who like big hitting. The slick surface of RPM Blast adds spin to the shot. While all co-polyester monofilaments provide such spin to some extent but RPM Blast is exceptional in this regard.
It offers a slightly softer feel than traditional polyester strings. It is an ideal choice for big hitters with heavier racquets aiming for maximum control, durability, and spin. This 17g version offers slightly more spin and feel than the 16g version.
Pros and Cons
Pros
The string is heavy therefore highly durable

Provide better control while playing

It's comfortable and soft at the same time
Cons
Not useful for slow strokes

Difficult to handle for amateur players
3) Head Hawk Touch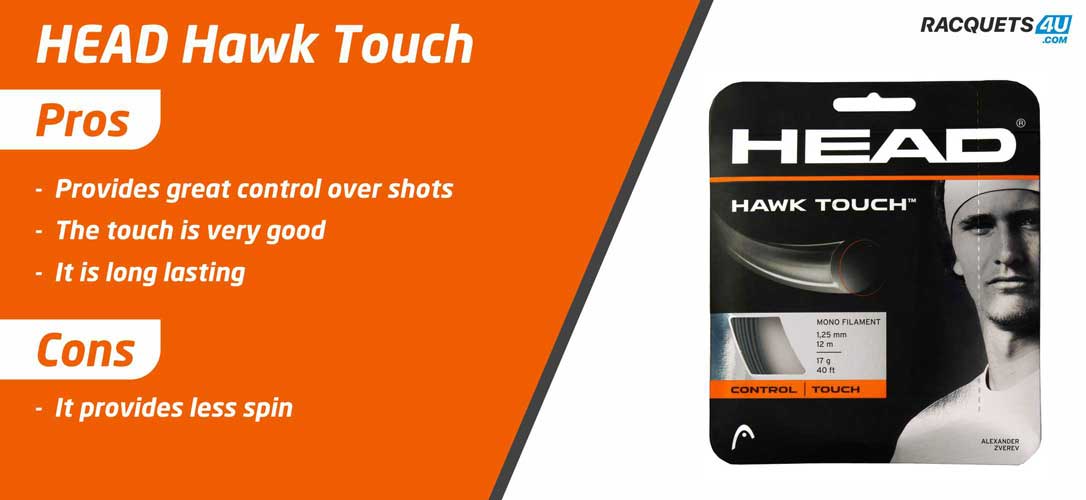 Type of string
HEAD Hawk touch is one of the best HEAD tennis string and has secured the 4th place in our analysis. It is a round string made up of co-polyester monofilament the innovative Crystal Core Technology.
It features a bigger crystalline inner core responsible for providing ultimate control to your game.
Gauge
HEAD Hawk Touch String is available in 17 and 18 gauge.
Playability
Designed for high-level Tour and tournament players, HEAD Hawk touch is one of the best strings used in the circuit. It is used by many Pro Players like Alexander Zverev, Ashley Barty, Taylor Slrits and many more.
The string's elasticity allows for accurate feedback and exquisite feel so you can follow through with your versatile game and perfectly control every stroke and, ultimately, the game. If high-level control is your game, HAWK TOUCH is your string.
Pros and Cons
Pros
Provide great control over shots

The touch is very good

Durable
Cons
4) Luxilon Alu power 125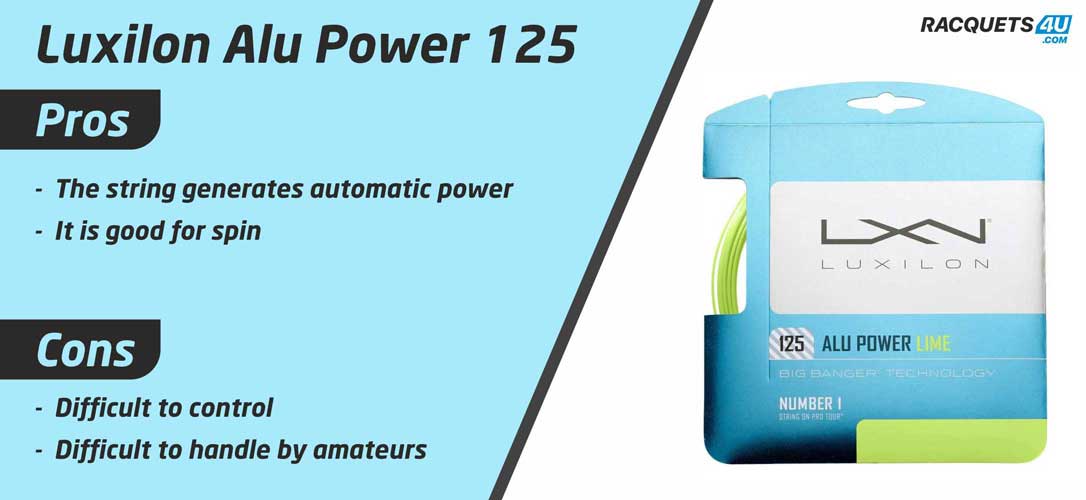 Type of String
4th in the list of best strings in India is Luxilon Alu power 125. It is a Limited Edition version of Luxilon ALU Power and is made up of resilient co-polymer fluorocarbon resin fibers with aluminum in it.
For this version, Luxilon releases an assortment of colors, including green, lime, red and blue.
Gauge
Luxilon Alu power 125 is available in 16L gauge.
Playability
The string helps in generating power and good for a spin. It is durable also. This string provides "best of class" combination of control, spin, durability and feel, it remains one of the best options for experienced players with long, fast strokes.
Pros and Cons
Pros
The string generates automatic power.

Luxilon Alu power 125 is good for spin.
Cons
Difficult to control.

Difficult to handle by amateurs.
5) Babolat vs touch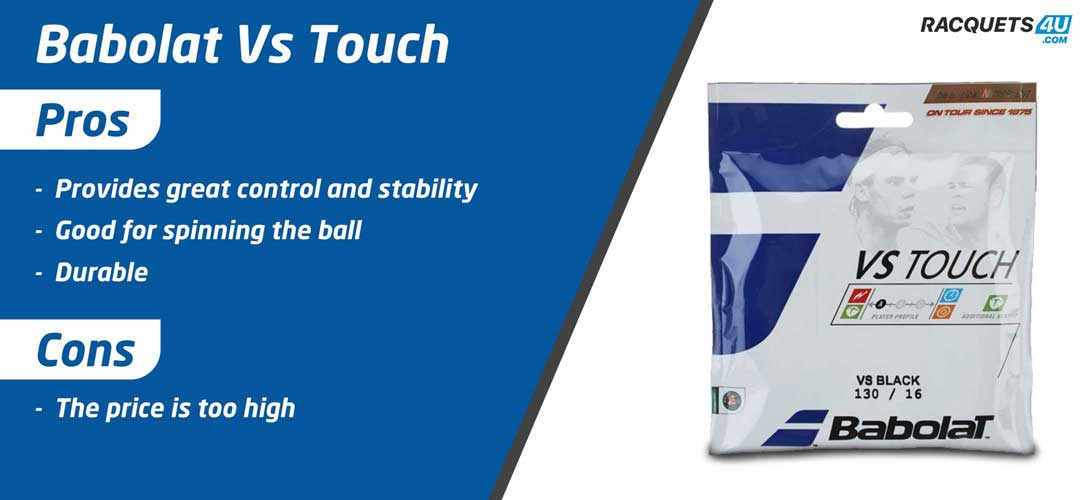 Type of string
Babolat Vs touch the top of the line Natural Gut in a thin and responsive 17 gauge. It is manufactured with BT7 and Thermogut technologies - a process of high-temperature finishing that increases the cohesion of the fibers down to the core of the string. This string has secured 5th position on our list.
Gauge
Babolat Vs touch is available only in 16 gauge.
Playability
The string provides great stability, spin and control while playing. Used by top touring pros and players who demand ultimate feel and control.
VS Natural Gut is constructed with a tighter gauge tolerance. Made with BT7 technology, which is a new layering structure, increasing durability by 15%. It offers a slightly firmer feel but remains the "Gold Standard" for comfort and playability.
Pros and Cons
Pros
Provide great control and stability

Good for spinning the ball

Durable
Cons
6) HEAD Lynx Edge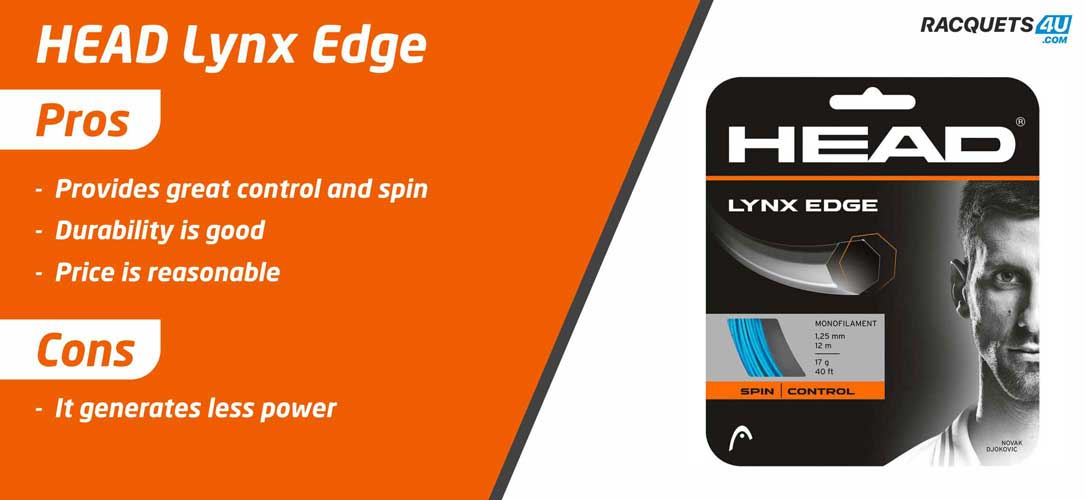 Type of string
2nd last string in the list of best 7 tennis strings is HEAD's Lynx Edge string. It is in hectogon shape made up of Co-polyester Monofilament which adds extra comfort and touch.
Gauge
Head Lynx edge is available in 17 gauge (1.25mm).
Playability
If you want to team up your power and control with extra spin, the Lynx Edge can help. Its special hectagon shape adds more bite to the ball, which makes it the perfect choice for the versatile topspin player who is looking for extra spin.
The lively touch and control necessary for your aggressive game are taken care of by the new co-polymer mixture this string is made of.
Pros and Cons
Pros
Provide good control and spin.

Durability is good.

Price is reasonable.
Cons
7) Solinco Hyper G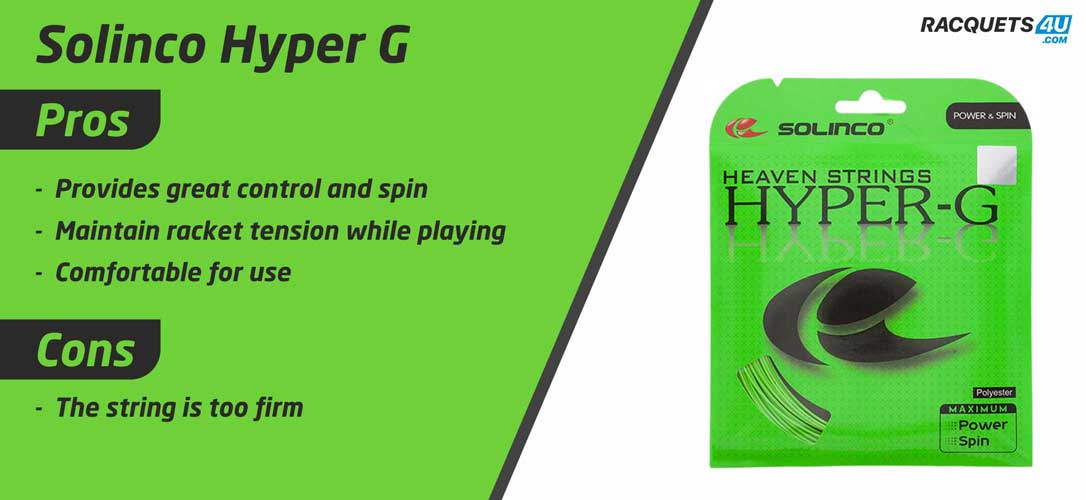 Type of string
Solinco Hyper-G is a square-shaped co-polyester string with an impressive combination of spin and precision. This string finds the 7th place on the list.
Gauge
Solinco Hyper g is available in 16 gauge (1.30mm).
Playability
Developed for an ATP top 50 players, Solinco Hyper g is great for control and spin and will allow big hitters to take massive cuts at the ball without any worry of overhitting.
It helps in accurate and precise returns and all Topspin players should love this string.
Pros and Cons
Pros
Provides great control and spin.

Maintain racket tension while playing

Comfortable for use
Cons
We hope that the analysis of the best 7 strings will help you in choosing the best string suitable for your game.